Program Info. & Financial Aid

If you are interested in a career in skin care, you can find more information on our aesthetics diploma program by going to our Contact Information Page or by visiting the MATC website: http://www.matc.edu/business/diplomas/aesthetician.cfm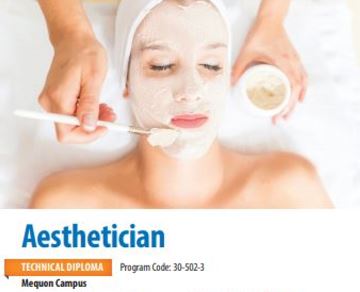 We are a high demand program which requires attendance at one of the mandatory Aesthetician Program orientations held at the Mequon campus each semester. These orientations are ONLY OFFERED TO STUDENTS WHO HAVE BEEN ADMITTED TO THE PROGRAM. The purpose of these orientations is to discuss your responsibilities as a student in this program, how to manage school, and how to prepare for licensure. These orientations will also provide you with the materials necessary to register for courses in the Fall 2019 semester. Prior to registration, please complete the following steps:
1. Go to the www.MATC.edu website and begin the admissions process. From the main page, click on"Student Services". Locate the "Get Started" area and follow the steps listed under the link "Starting a Degree or Diploma".
2. Complete Steps 1-5 prior to the orientation. We will provide you with the list of courses to register for at the orientation meeting.
3. Review and complete the paperwork for Financial Aid (if applicable). This link is also located under the "Get Started"
4. After you receive your admissions letter stating you have completed the admissions process, Reserve a space in one of the following orientations: Go to the Contact Information Tab and complete the form and indicate which orientation you would like to attend.area on the MATC.edu website.
Upcoming Orientation Dates: TBA - If there are any seats available after June 10th, we will be reaching out to students who have already applied to the college and been admitted to the Aesthetician Program. Students will be invited according to their admission date for the program.
FINANCIAL AID: The Aesthetician Technical Diploma qualifies for Financial Aid. Apply for Financial Aid MATC's School Code: 003866
SCHOLARSHIP OPPORTUNITIES
The MATC Promise...Making the Dream of College a Reality!
What is the MATC Promise? MATC will pay the tuition and fees, after federal and state financial grant aid has been applied, for eligible students for four consecutive semesters (up to 15 credits each semester; does not include Summer semester).

If you're ready to begin a fulfilling and rewarding career in skin care, it all begins with choosing an aesthetics school that's right for you. If you are worried about finding the money to pay for aesthetics school tuition, Beauty Schools Marketing Group is offering a $2,500 cosmetology school scholarship to help aesthetics school students live their dreams!
Apply for the Beauty Schools Marketing Group scholarship below and get started down your beauty career path. Applicants may submit one application per session.
Click the Beauty School Directory link for more information: